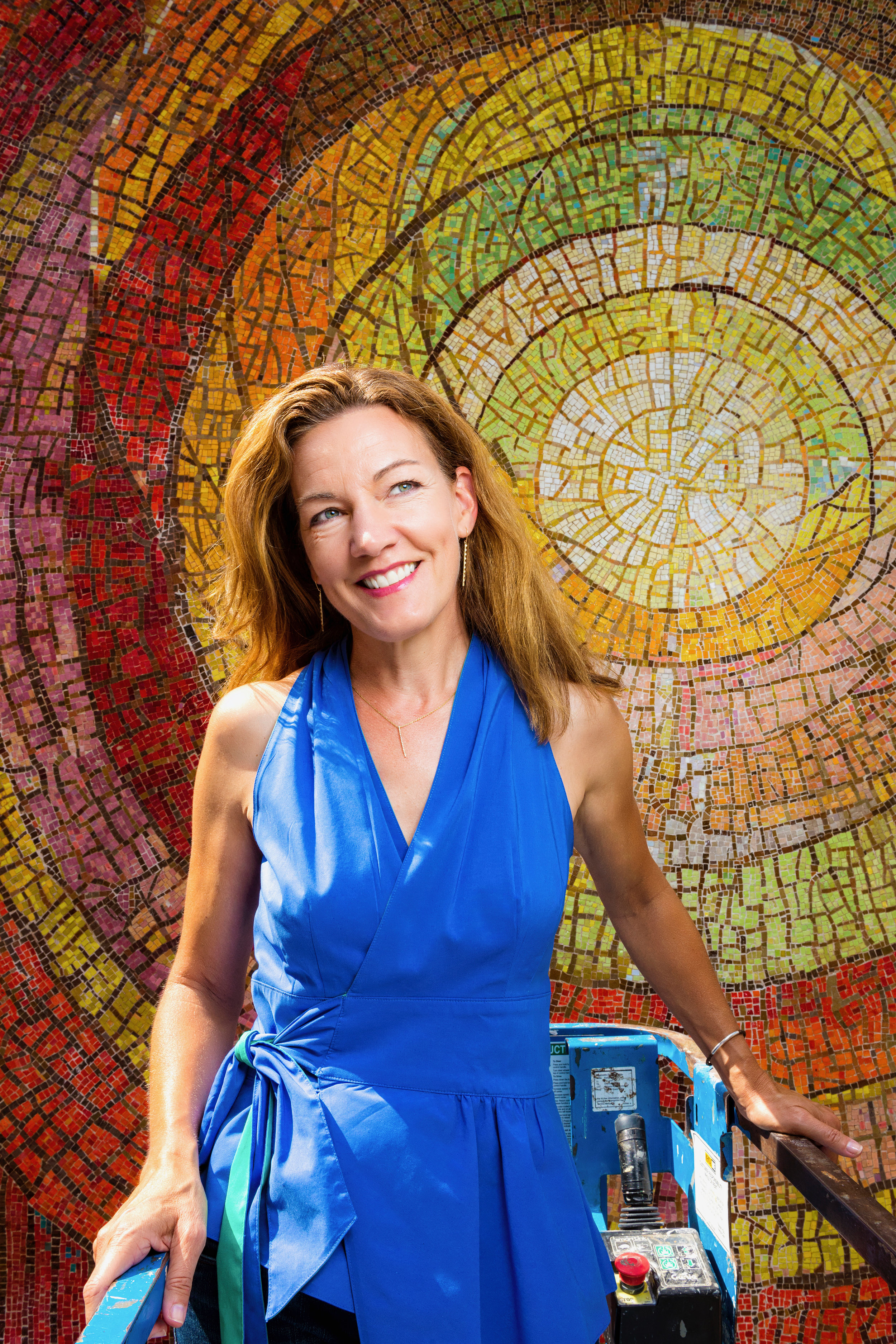 Julie Richey, pictured at the St. Jude Chapel, where she and a team from Art Restorations of Dallas restored the Gyorgy Kepes mid-century mosaic façade in downtown Dallas, Texas.
Photo by Danny Fulgencio for Oak Cliff Advocate Magazine.
Texas artist Julie Richey has been making mosaics for more than 20 years, creating custom residential and commercial installations in the US, Italy, Spain and Mexico. Her mosaics and sculptures have been exhibited across the US and in Italy at the biennial Ravenna Mosaico festival and at the Orsoni Smalti Veneziani foundry in Venice as part of the Orsoni Grand Prize for mosaic in 2009.
I have two mosaic passions: making large works for public spaces and creating smaller, more personal sculptures in mosaic. Public art requires a balance of function and imagery. I enjoy the challenge of creating unique, site-specific mosaics which create a memorable place.
In my sculptural pieces, I try to channel the innate opulence of mosaic materials – 24k gold smalti, marble, semi-precious stones, iridescent glass and minerals – to embellish sculptural forms in unexpected ways. See the Project Gallery.
In addition to making mosaics, I offer annual art and culinary tours to Italy, where I share years of accumulated knowledge of the Italian culture with a small group of enthusiastic travelers. See Tours.
Julie Richey Mosaics, LLC is a member of The Association of Consultants for Liturgical Space, a voluntary membership organization of professionals dedicated to the creation of beautiful worship spaces for faith communities. Liturgical-consultants.org.