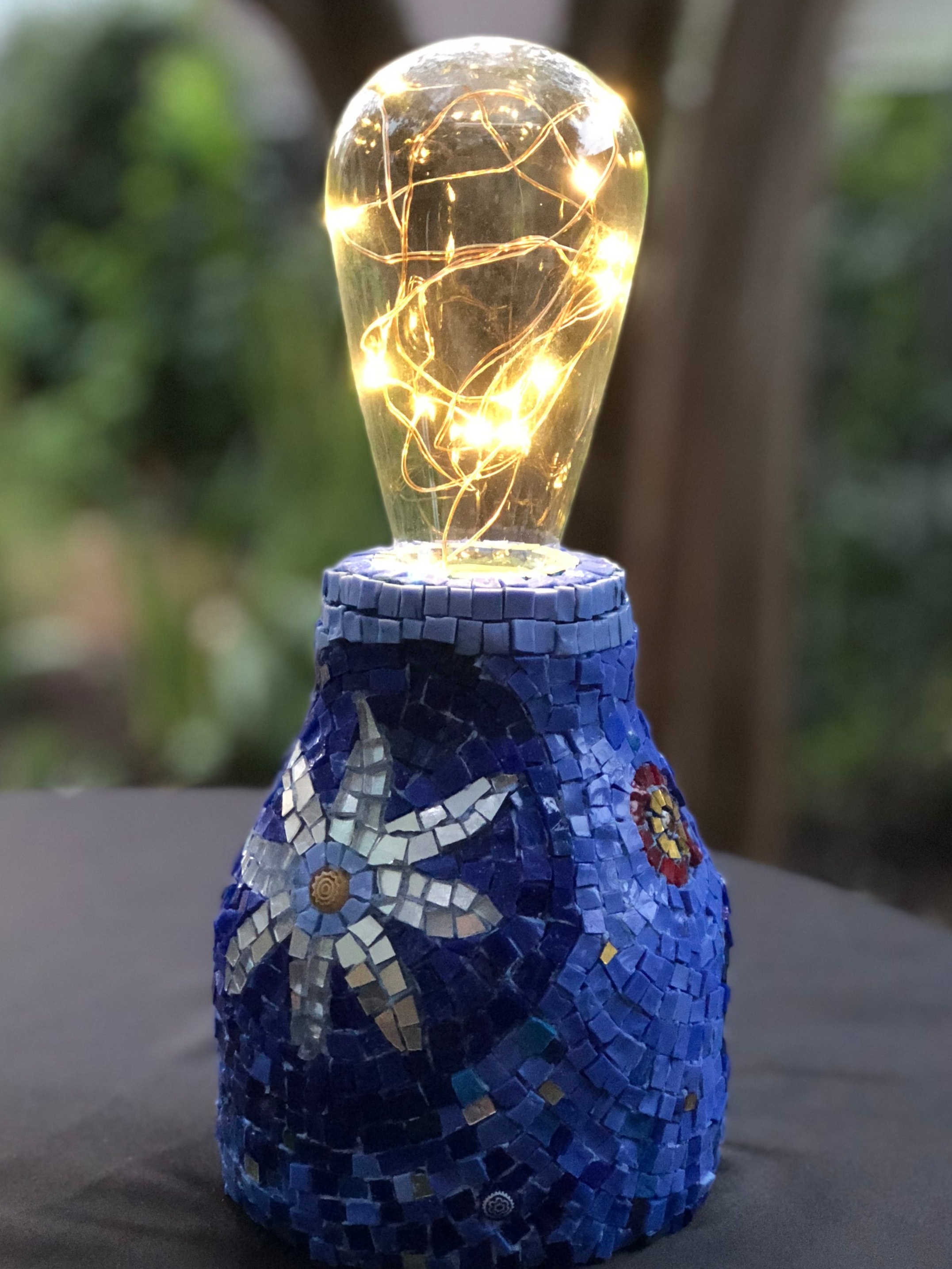 Byzantine Night Light
Inspired be the most modern of night lights, an "eternal LED" strand, I embellished this battery-operated night light with an ancient pattern of Byzantine stars from the ceiling of the tomb of Galla Placidia in Ravenna, a UNESCO monument.
Italian smalti, millefiori and 24k gold.
10.5" h x 5" w x 5" d
$450 SOLD
Classical Seal for the University of Dallas Cardinal Farrell Hall
Harvey
Italian smalti, 24k gold, seashells, Swiss watch and millefiori on resin form.
My sculptural mosaics begin with a specific design in mind, but they often take an unexpected path as current events seep into the studio. Wildfires, oil spills, and in Harvey's case, a major hurricane can take over at any time, dictating a spontaneous andamento. Harvey is Everyrabbit. He is Lewis Carroll's timekeeper; Alice's nervous Virgil. He is Elwood's invisible pooka friend.
Harvey, detail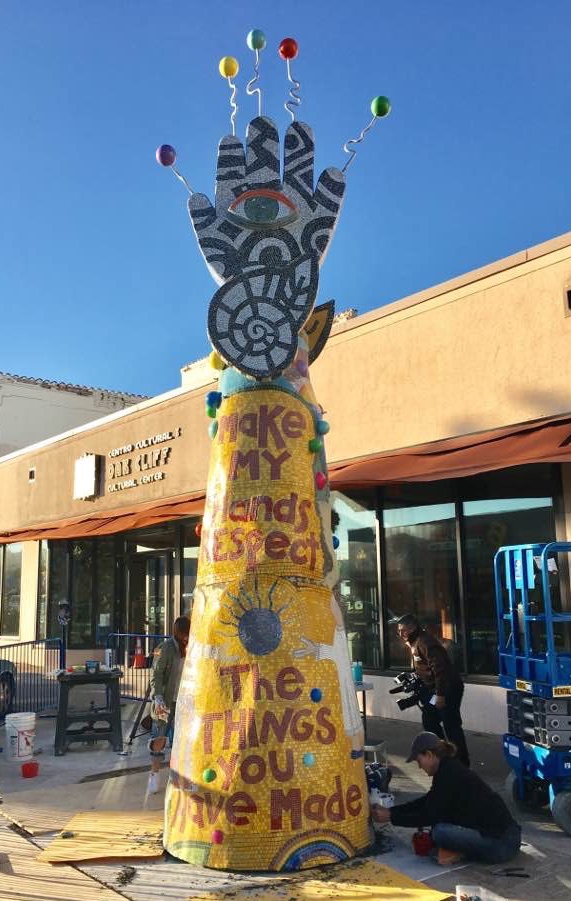 Piece 24: Make My Hands Respect the Things You Have Made
Steel, concrete, glass mosaic. 18 feet x 4.5 x 4.5 feet.
Piece 24: Make My Hands Respect the Things You Have Made
W.orking with Dallas high school student interns and local artists and community volunteers, Piece 24 is the first in a series of public art sculptures initiated by 29 Pieces.
Utilizing the maquette totem made by students, we instructed them on proper mosaic technique and created the majority of the imagery in the 29 Pieces studio. Once the steel form, fabricated by Albert Scherbarth, was delivered, mosaic sections were applied to the surface. In November, 2016 the sculpture was transferred to its intended site in front of the Oak Cliff Cultural Center. Two weeks' worth of work on site completed the sections and the steel ball attachments.
Piece 24 detail
Piece 24 detail
Piece 24 detail
Tower of Unmelting, Chocolatey Truffled Goodness
A recent edition to the Upcycle Mosaic Project, the Tower is made from styrofoam shipping containers, repurposed to become chocolate-themed sculptural cubes. Each cube is separate, and they stack on a center steel pole base.
Made from Bisazza's Opus Romano enameled glass using the Laticrete One Step Method to adhere, the sculpture is suitable for outdoor display.
60" x 17"
SOLD
The Red Wash
The Kepes mosaic façade at St. Jude Chapel was in disrepair due to fractures caused by roof leaks and settling. Tiles were loose or missing. Silicone was applied at some point in the past to hold loose tiles in place, but silicone is never a good idea. We partnered with Art Restorations of Dallas to repair the fracture, replace damaged and missing areas with the original materials, and stabilize the entire 378-square-foot mosaic. We used a state-of-the-art anti-fracture material called Hydro Ban to waterproof and tape over the fracture. Our Dallas Laticrete International rep was wonderful and provided us with just the right products for the tricky application. This video depicts the final step in the painstaking process: washing the grout joints with a customized blend of Indian red and burnt umber pigments. The project took six weeks and was completed June 9, 2017. Photos of the process can be viewed here.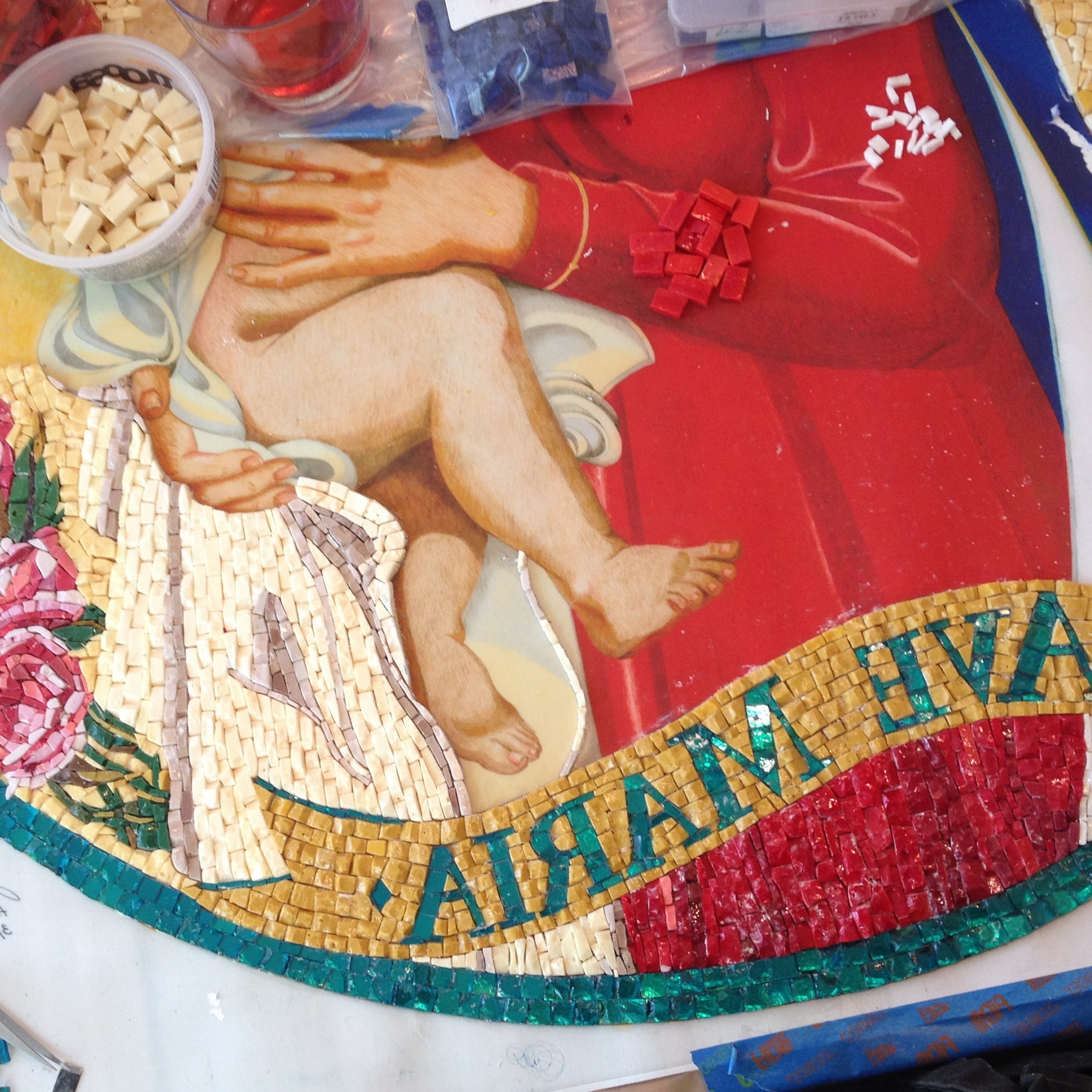 Getting ready for reds
Can't wait to get into the deep reds, cranberries and pinks of Mary's gown.
A New Collaboration: The Seton Madonna of Consolation
We're excited and honored to be working on a new, collaborative commission for St. Elizabeth Ann Seton Catholic Church in Plano, Texas. Lynne Chinn has designed this beautiful Madonna and child with input from the parish priest, Father Bruce Bradley, and his committee members.
The mosaic will be framed and installed in the columbarium garden at the church.
Design copyright l . c . mosaics, 2015 www.lcmosaics.com
Selecting the right colors
Choosing precisely the right colors from hundreds of options is an exacting process. Lynne and Julie are combining their stashes of smalti collected over the years from other projects, and are ordering additional colors from Italy. The color palette in the mosaic will complement the thematic colors of the columbarium garden: purple, white, red and green.
Seton Madonna is underway
We've completed two sections of the roses and Christ's swaddling. The smalti is hand-cut, beveled, and placed face-down on a reversed pattern made from a high-res photo printed in reverse. Once the sections are completed and the next section's first border pieces are aligned with the previous section, the earlier section can be cut away and stored.
Eventually the mosaic will be glued in place by flipping each section into the mortar, tamping it down and gently sponging away the paper pattern from the front side. This reverse technique allows us to create a very flat surface on the front of the mosaic. The irregularity of the cut pieces (seen here) will be absorbed into the mortar on the back side.
To follow this process in real time, follow The Seton Madonna of Consolation on Facebook.
University of Dallas Seal
Commissioned for the living room of the UD President's Residence, Irving, Texas.
University of Dallas Seal
24k gold and Italian smalti. 30 inches.
Mosaic copyright Julie Richey Mosaics, LLC, 2015
Ulysses: New mosaic mascot of Dude, Sweet Chocolate.
34 inches tall and weighing about 100 pounds, this solid concrete cottontail rabbit sculpture is covered in Bisazza's opus romano enameled glass. He has found a new home at the Greenville Avenue Dallas store of Dude, Sweet Chocolate. We hear he'll be a rotating mascot, visiting their Oak Cliff, Preston Road and Fort Worth stores, too!
Ulysses at Dude, Sweet Chocolate
Here's Ulysses at his new home amongst such Dude, Sweet favorites as Crack-in-a-Box Chocolate Bark, Love Potion Chocolate Sauce, Fungus Amongus Toffee and Tubby Elvis Spread Peanut Butter, Banana and Chocolate decadence. Not to send you off on a tangent, but Dude, Sweet!
Giacomo
Natural stone, unglazed ceramic and glass on hand-formed base. 17 x 10 x 10.5 inches. Suitable for outdoor display. Private collection, Texas.
Seton Madonna of Consolation
Seton Madonna detail
Italian smalti and 24k gold leaf mosaic medallion. Custom design by Lynne Chinn, l . c . mosaics.com. Mosaic fabricated by Julie Richey and Lynne Chinn.
Recent Work